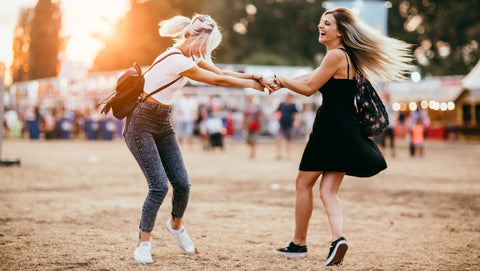 Scholl's Festival Footcare Guide
Festival foot care essentials
As demand increases for unique experiences, more festivals are popping up offering everything from music, arts, food and comedy. But whether you're just going for a day's dancing or pitching up for the weekend, remember to take care of your body - right down to your tired feet.
Festival going can be more like a sporting event, with five miles or more of walking in a day. So, we've put together some top tips to help keep you healthy from head to toe during festival season.
Wear the right footwear and look after your feet
From choosing the right footwear to bringing footcare products, there's plenty you can take with you to ensure you look after your feet this festival season. The weather can be unpredictable, so pack footwear for wet and dry weather. Wellies and thick socks keep feet protected from the rain and mud but if your feet do get damp, dry them and put on fresh socks as soon as you can to avoid any foot problems the damp may cause. If you are lucky enough to have a few days of sunshine, then flip flops or trainers will be all you need to get your feet through your festival experience.
Walking between camp and various stages means you're likely to cover a lot of ground, so avoid new shoes that could rub and cause blisters. However, it's still best to be prepared. Why not take a supply of Blister Plasters with you?

Stay hydrated
While you're partying out in the sun, it can be all too easy to forget about something as simple as drinking enough water. Even though H2O isn't the most exciting option available at festivals, it is essential for keeping the body and skin hydrated. Keeping a bottle of mineral water to hand and taking advantage of any water refilling stations available will go a long way to tackling dehydration. Coconut water is a great alternative to plain mineral water as it's sweet and packed with electrolytes to get more fluid into your body.6 And don't forget to keep an eye on your caffeine and alcohol intake as neither is a substitute for water.
Stay fresh
Don't fancy trying your luck in the festival showers this summer? Body wipes are a festival necessity for removing dirt, makeup, sunscreen and sweat from the day. Not only can they be easily disposed of, they come in a variety of face and body wipes that can leave you feeling refreshed and ready to continue your day. If you do decide to venture into the showers, make sure you have flip flops to avoid germs and infections such as Verrucae or Warts on feet, that can spread rapidly in these types of environments.
Fuel your body
In recent years, it has become a lot easier to make healthier food choices at festivals. Start your morning by fuelling up with nutritional options such as porridge, a high-protein energy ball or fruit that will help keep your energy levels up throughout the day. There will be a selection of stalls that provide healthy alternatives to help you feel reinvigorated, ready to start you off on all your festival activities. You can also quench your thirst and stay hydrated by opting for water-filled fruit and veg. If you are looking to fuel your body while keeping your body hydrated, opt for snack choices like strawberries, bananas and tomatoes that have a high-water content. They're refreshing, but also full of nutritional value.
Protect your skin
Whatever the forecast is saying before you go, remember to take sun cream. At most festivals, there is always limited shade, especially while you're watching your favourite bands. So, cover up properly and don't forget the sunscreen to protect your skin from the sun and its harsh UV rays.
Products: