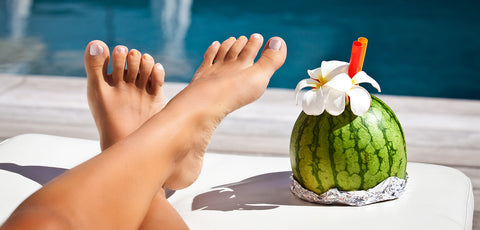 Pamper Yourself with this DIY Foot Soak Experience
Create the Atmosphere of a Foot Spa at Home
Take some time to get the room ready, which might be through lighting candles, burning incense, or playing some quiet music1. If it's possible, pick a time when there won't be any distractions or interruptions. 1 Bringing elements of the spa experience into your home can really make your foot spa feel special and extra relaxing. 1
Have a Warm, Relaxing Foot Bath
Before using any footcare products and accessories, spoil your feet in a relaxing warm foot soak for fifteen to twenty minutes.2 This will help soften your skin ahead of the treatments3.
If you have the space and time, relax your whole body even further by taking a long luxurious bubble bath.4.
Treatments
Build yourself up a foot spa pedicure toolkit featuring all the essentials: nail clippers, nail files, dead skin removers, and, of course, the Scholl Velvet Smooth Express Pedi with Diamond Crystals*. Take a look at Scholl's Velvet Smooth range of products for different foot treatments, from pedicures to hard skin removal, to help your feet feel and look better...
*Contains synthetic diamonds
Keep Your Toenails Trim & Smooth
Keeping your toenails trimmed and smooth is essential for footcare!5 Not only will they look so much better, but there will also be less chance of them causing you pain and discomfort.6 When you cut your nails, be sure to use proper nail clippers7, and to cut them straight, not down at the corners 6. Doing this can cause painful ingrown toenails! 6 Then, simply file the corners and edges of your nails softly, making sure there are no sharp edges. 5
Remove the Hard Skin
The hard skin on your feet develops due to pressure or rubbing, usually from your shoes.8 Scholl offers a number of products to help you with this, such as medicated patches to soften built up layers of hard skin. For an at-home pedicure experience, it is recommended that you use the Velvet Smooth Express Pedi with Diamond Crystals*. It comes with an assortment of three different roller heads (extra coarse for particularly thick and stubborn hard skin, regular coarse for excess hard skin, and gentle for providing a perfect finish).
*Contains synthetic diamonds
Getting Long-Lasting Results
The daily use of a foot cream is recommended5 to keep skin soft 3. Be sure to massage in foot moisturising cream thoroughly to really relax those feet2 – or for a real spa experience, see if your partner or a friend is willing to do the massaging!
If you'd rather just put your feet up at this point, you could instead try a Dry Skin PediMask, which provides an intense feeling of nourishment for soft and smooth feet. Simply apply each sock to clean, dry feet, secure the sock in place with the attached sticker and leave on for 20 minutes..
Feet are unsung heroes of everyday life, always there to take you to where you need to be, so it's time to celebrate them by building time to look after them into your routine and giving them a pampering pedicure every now and again!
ALWAYS READ THE LABEL. USE ONLY AS DIRECTED. IF SYMPTOMS PERSIST SEE YOUR HEALTHCARE PROFESSIONAL.