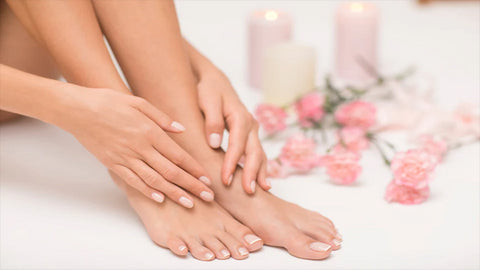 Caring for Cracked Heels and Dry Skin
When your feet feel good, you feel good. Which is why it's so important to have smooth, healthy skin. Your skin is like a shield, but when dry skin and cracks begin to appear it can't do its job properly.
What are cracked heels?
Cracks begin when tiny splits occur in dry, damaged skin. At first, your heel may feel tight when you're standing for long periods. The next signs are often intense dryness, itching and tenderness. Finally, your skin may turn yellow or brown and feel hard to the touch. Cracked heels may seem like nothing more than a nuisance, but over time they can become more and more painful until it hurts just to walk. In advanced stages heels may be so dry that they turn white, yellowish and begin to flake. Cracks can deepen and may even bleed and become infected with bacteria.
What causes cracked heels?
At its simplest, dry skin causes cracked heels. Dehydration is one of the biggest causes of cracked skin. Once moisture is lost your feet start to produce thick areas of rough skin as a form of protection. Other factors include:
Obesity, diabetes, and hypothyroidism

Chronic skin conditions like psoriasis

Dry indoor heating or exposure to cold weather

Problems with pronation of the foot
Luckily, with over 100 years of foot care experience, we have just the products you need to treat cracked heels and dry skin.
Moisturise and File
Thankfully, it's relatively easy to help cracked heels and dry skin - and the results can be quite quick. The first step is to moisturise them with Scholl's Eulactol Heel Balm. This clinically proven cream moisturises the skin and provides 'active' skin repair for rough, dry cracked heels. It provides fast-acting skin repair to help visibly improve the appearance of rough, dry and cracked heels in as quickly as 1 day.

Once all visible cracks are gone, it's time to start your filing routine. Regularly using the Scholl 2-in-1 Electronic Foot File will remove dry, hard or even rough skin and buff it smooth - leaving your heels and feet feeling soft.

And once you've got your heels back to feeling and looking good it's easy to keep them that way.

Simple tips to keep your heels healthy
Once you've restored your heels with

 

Scholl Eulactol Heel Balm, stop them from getting dry again by regularly moisturising.
File your feet regularly to remove hard, dead skin using

 

2-in-1 Electronic Foot File
Wear comfortable, well-fitting

 

shoes.
Say goodbye to cracked heels and Feel Foot-tastic™
So, as you can see there's no need to suffer from cracked heels and dry skin. Using our Scholl Eulactol Heel Balm and 2-in-1 Electronic Foot File, you could be enjoying soft smooth heels in days. All ready for you to show off this summer. If you have Diabetes and cracked heels, Eulactol Heel Balm Gold is safe for use.

Feel Foot-tastic™ with our Scholl Eulactol Heel Balm and 2-in-1 Electronic Foot File.
Products