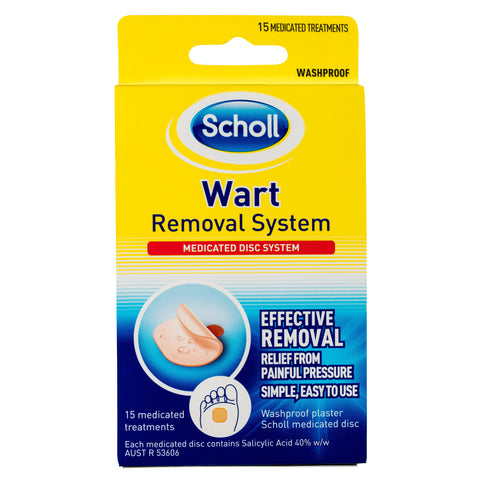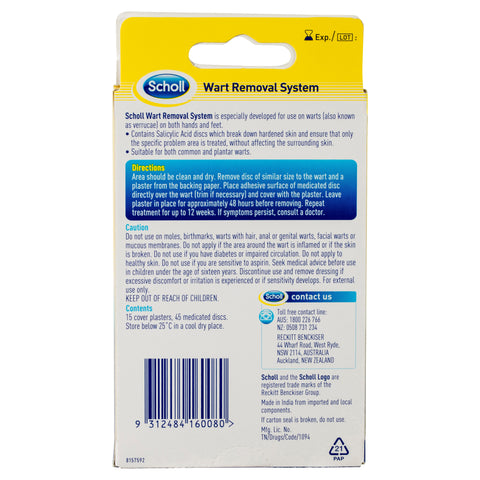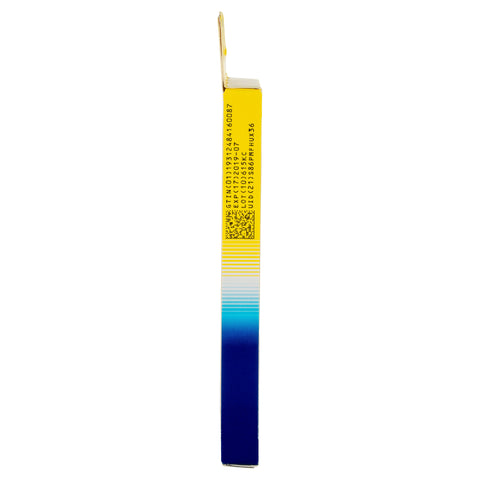 Verruca & Wart
Scholl Wart Removal System
Product Description
Scholl Wart Removal System for effective removal and relief from painful pressure.

Safe and effective removal Relief from painful pressure

Simple and easy to use

Suitable of both common and plantar warts
Scholl Wart Removal System is especially developed for use on warts (also known as verrucae) on both hands and feet.
Contains Salicylic Acid discs which break down hardened skin and ensure that only the specific area is treated, without affecting the surrounding skin
Suitable of both common and plantar warts.
Area should be clean and dry. Remove disc of similar size to the wart and a plaster from the backing paper. Place adhesive surface of medicated disc directly over the wart (trim if necessary) and cover with the plaster. Leave plaster in place for approximately 48 hours before removing. Repeat treatment for up to 12 weeks. If symptoms persist, consult a doctor.
Medicated Disc system 8 plasters, 8 medicated discs. Each medicated disc contains Salicylic Acid 40% w/w
Can remove warts and verrucae in as little as one treatment
Treat your child's verruca with Scholl Verruca & Wart Treatment pen. Scholl Verruca and Wart Complete Treatment Pen is clinically proven to treat verrucas and warts. The pen has a precision tip with blue coloured gel to prevent accidental application to healthy skin.
All About Feet: Foot Care Tips, Advice & Latest News
You currently have no items in your cart.