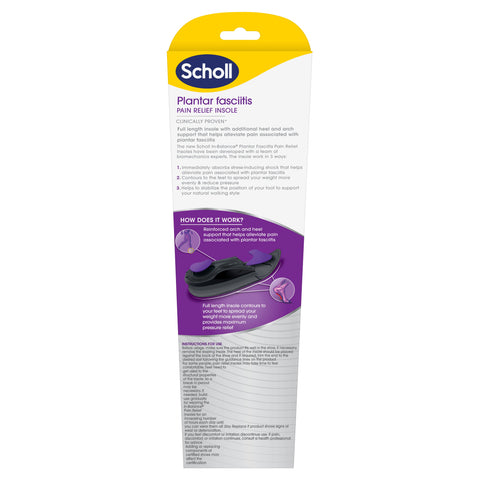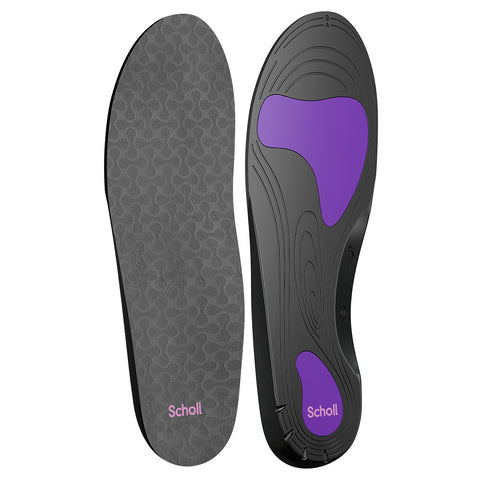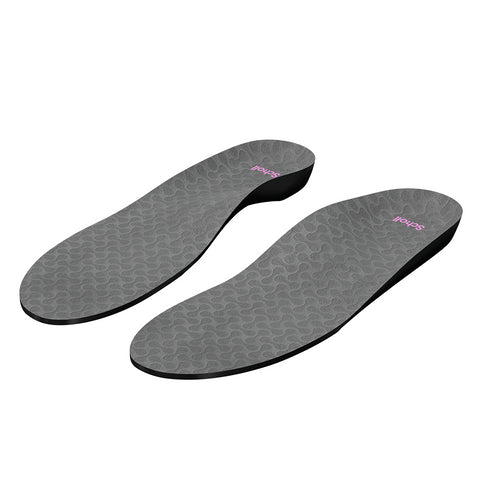 Orthotics
Scholl In-Balance® Plantar Fasciitis Pain Relief Orthotic
Product Description
Scholl In-Balance® Pain Relief Plantar Fasciitis Orthotics is a Full length insole with additional heel and arch support that helps alleviate mild pain associated with Plantar Fasciitis.

Dual layer cushioning gel cup and internal arch support may help support and reduce stress on the plantar fascia

A heel raise to reduce stress on the achilles tendon

Help to stabilize the position of your foot to support your natural walking style
The range of Scholl In-Balance® Pain Relief Insoles work in 3 ways:
1.  Immediately help to absorb stress-inducing shock through the lower body.
2.  Contour to the feet to spread your weight more evenly and reduce pressure.
3.  Help to stabilize the position of your foot to support your natural walking style.

How does it Work?
Full length insole to support the position of the entire foot and prevent high pressure areas, distributing the load more evenly.

Heel Cup with superior shock absorption** to reduce stress transfer to the lower back.

**vs other Scholl In-Balance Orthotics Insoles range
Before usage, make sure the product fits well in the shoe, if necessary remove the existing insole. The heel of the insole should be placed against the back of the shoe and if required, trim the end to the desired size following the guidance lines on the product.

For some people, orthotic insoles may take time to feel comfortable. Feet need to get used to the structural properties of the insole, so a break in period may be necessary. If needed, build use gradually by wearing the In-Balance Orthotic Insoles for an increasing number of hours each day until you can wear them all day.

If pain persists, discontinue use and consult a professional for advice.
Helps relieve lower body pains
Designed with specialized arch support and heel cushioning, they provide targeted pain relief, reducing strain on the plantar fascia and offering immediate comfort.
Motion Control Structure™
Motion Control Structure™ contours the foot and helps relieve lower body pains from being on your feet all day
Warnings
Discontinue use if you experience adverse reaction.
All About Feet: Foot Care Tips, Advice & Latest News
You currently have no items in your cart.