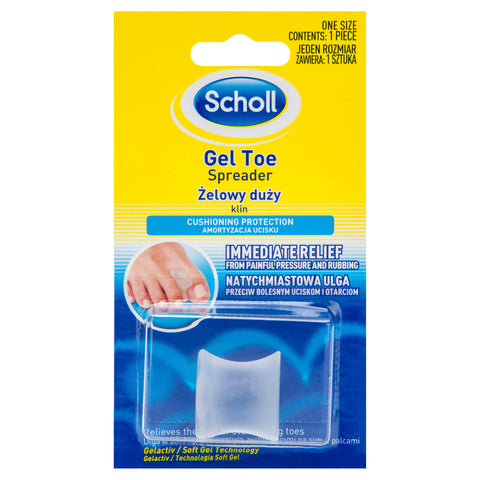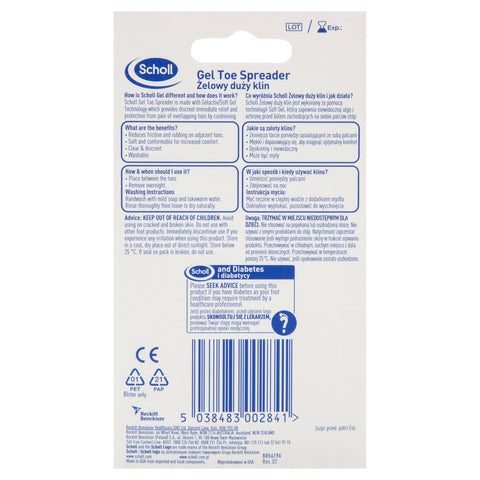 Sore Feet
Scholl Gel Toe Spreader Pain Relief
Product Description
Scholl One Size Gel Toe Spreader Soft Gel Technology

Immediate relief from painful pressure And rubbing

Clear And discreet

Relieves the pain of overlapping toes
Scholl Gel Toe Spreader is made with GelActiv®/ Soft Gel Technology which provides discreet immediate relief and protection from pain of overlapping toes by cushioning.
Reduces friction and rubbing on adjacent toes.

Soft and conformable for optimum comfort. Clear & discreet. Washable. Scholl One Size Gel Toe Spreader Soft Gel Technology. Immediate Relief From Painful Pressure And Rubbing
Clear And Discreet. Relieves The Pain Of Overlapping Toes.
Place between the toes. Remove overnight. Washing Instructions: Hand wash with mild soap and lukewarm water. Rinse thoroughly then leave to dry naturally.
Slim, soft and comfortable for optimum comfort
Scholl Gel Toe Spreaders use soft gel technology to provide immediate relief from painful pressure and rubbing.
All About Feet: Foot Care Tips, Advice & Latest News
You currently have no items in your cart.